ahhh... who doesn't love SPAM?! as a child, i remember having it if i don't like our
ulam
at home. we made sure we had stocks in the pantry all the time just in case we need some rescuing from the eeky sibut that mom would put in our soup... hehehe
anyway, spam has evolved and has more variety than ever ...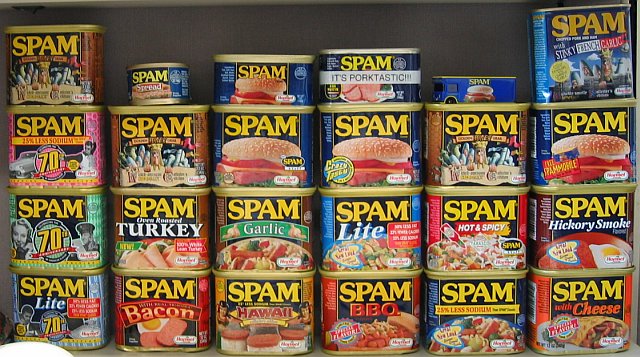 credits to royce william for this spam collection image
SPAMJAM
, a manila-based cafe/diner, was once opened (i remember eating there at glorietta 4) they served all sorts of spam -- spam burger, spam spaghetti, spam nuggets, spam salad... but it closed not long after they opened... i think it was too pricey for something that can be created at home.
photo from chotda / K Santos
for those who do not know,
cafe bola
is also serving spam. they call it the spamwich. i tried to copy it at home by adding honey to my regular spam but i can only come close, still not exactly the same... they must have a secret ingredient i cannot seem to guess... 
happy spamming!
INTERESTING FACT: 
spam.budwin.net
 has reviews of how all of these different SPAM® types taste!